Pregnancy can be a hard time for a mother. She has to leave her job, social life, and especially sleep to take care of a child. Many organizations provide financial help for pregnant mothers. In some cases, the mothers get depressed and stressed out because of the financial burden of pregnancy. If you are looking for financial assistance for pregnant single mothers, don't worry. You come to the right place.
There are various ways to get financial assistance for pregnant mothers. And here, we have listed every detail related to this topic in this article. Read the post carefully, and you will know everything about how to get financial help for pregnant mothers.
How to Get Financial Help for Pregnant Mothers?
The time of pregnancy is considered the most valuable time of a woman's life; however, it is also expensive. Nowadays, the cost of pregnancy is rocketing day by day. The exact cost of pregnancy is tough to determine. In the report of TIME 2017, the uncomplicated childbirth expanse of a hospital is about $5000 to $10000. And, Caesarean birth costs approx. $7000 to $14000.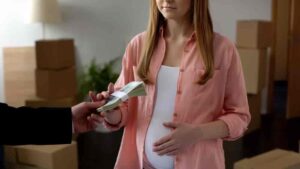 This estimated expanse range is only for childbirth. The expanses of pre- and post-pregnancy are not added to this cost. During the nine months of pregnancy, and after pregnancy, the mother needs several medications, and the cost child's upbringing, medicine, and other expenses are included in the list.
All of these expenses are bear by the parent, but it is a tough situation mentally, physically, and financially for a single mother. Childbirth may cost a fortune for single mothers, So financial assistance for pregnant single mothers is essential.
Government And Non-Government Pregnancy Assistance Programs
Many organizations are willing to pay for pregnancy expenses. There are four ways of finding financial help for pregnant mothers. The first one is the pregnant financial help program by the government, but you have to check your eligibility. The second is from the adoption agencies, if you want to place your child for adoption, the next one is from charities, and the last one is from crowdfunding. We'll explain in detail about all of these ways.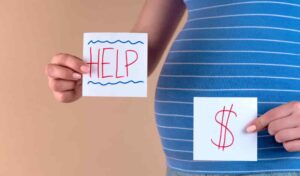 1. Government Programs For Pregnant And Need Help With Money: 
The government is conscious of the expanse of pregnancy. That's why federal and state governments have created several programs to help pregnant moms. The government provides free money for pregnant moms-to-be. But you have to fit in the eligibility criteria of programs.
A.Women, Infants, and Children (WIC) Program:
WIC program helps low-income parents' especially mothers. For women who are pregnant and facing issues with breastfeeding, postpartum, or facing trouble providing a nutritionally balanced diet to their infants or children, WIC help them. Some parents cannot afford some necessary medications and food for their children due to low income.
Women, Infants, and Children Program help them by providing supplemental nutritious food, nutrition education, and health screening. They also do counseling with parents or mothers to resolve mental issues and stress.
Four factors decide your eligibility:
Categorical
Residential
Income
Nutrition Risk
WIC program serves pregnant women, breastfeeding women, non-breastfeeding postpartum women, infants, and children up to age 5. If you are eligible for any of these categories, you can check for the other criteria.
The applicant must have to apply in the state where they live, and s/he can apply for WIC in a local hospital or WIC center. You will get detailed counseling about this program in detail once you visit the WIC center.
Make sure you check your eligibility before visiting WIC. You can use the Pre-screening Tool to verify your eligibility. You can tick the options that are applied to you in the Pre-screening Tool to check whether you can apply for WIC or not.
B.Children's Health Insurance Program (CHIP)
Children under 19 years will get free or low-cost medical assistance if they are eligible for the CHIP program. This program is beneficial for parents working for low wages or financial assistance for pregnant single mothers.
It sounds like a long-term program, but it will save a lot of money. From childbirth to 19 years, your expenses on the child's health will be saved if you enroll. The CHIP program is only for children under 19 years.
It will not give your money for any other expanse except medical and dental. You need to provide proof of residence, income, and nationality for this program. Applicants must be citizens of the United States of America, and S/he must have an age under 19.
He or She must be uninsured from other medical insurance or programs. Applicants must submit detailed information about their grandparents, whether they are using any financial aid from the state or federal government.
If you are an immigrant or don't have proof of nationality should consult the nearby government office for more details. From CHIP, the children will get quality, comprehensive health insurance that covers routine doctor visits, prescriptions, eye check-ups, dental, immunizations, hospitalization, maternity care, rehabilitation therapies, mental health services, and much other medical assistance at free or low-cost.
Must Read: Hardship Loans For Single Mothers
C. Temporary Assistance for Needy Families (TANF)
TANF program helps low-income families with dependent children get back on their feet and regain stability in life. This financial assistance program's primary focus is to provide money to families so they can take care of their children. You can get post-pregnant financial help.
TANF program aims to:
To assist needy parents in taking care of their children in their home or the home of a relative
To make them independent parents by promoting job preparations, work, and marriage.
To prevent and lower the incidents of out-of-wedlock pregnancies.
Encourage and motivate the two-parent family formation.
To be eligible for TANF, you must have a child of age less than 18 years or 19 years if he/she is a full-time student. Applicants have to apply for other benefits like unemployment compensation, supplemental security Insurance, Child support, etc. before applying for TANF. Applicants should have US citizenship or lawful resident of the US.
A child must be deprived due to the following issues:
None of the parents were able to stay home to take of the child.
At least one parent has Physical or mental incapability
Death of parent
Parents must provide a Social Security number. Children between the ages of 6 to 17 have to go to school for graduation if they haven't. The total family income must be below the limit of eligibility. For example, a family of 3 (mother and two children) must have a total income between $784 and $100 per month. To know detailed information, visit the official site of TANF.
D. Supplemental Nutrition Assistance Program (SNAP)
SNAP emphasizes providing nutritious food to low-income families and individuals to fight hunger. Families or individuals can buy items like bread, poultry, meat, dairy, fruits, and vegetables to benefit from the SNAP program. They can also visit some restaurants and stores that accept SNAP benefits.
This program provides financial assistance for pregnant single mothers by providing nutritious food items. To be eligible for the SNAP program, a family or individual must have to pass these three limits.
Gross monthly income:
The gross monthly salary of the family must be lower than the poverty line. For example, for a three-person family, the poverty line is $2311 per month. So, the applicant must have a lower income than the poverty line. The poverty level is high for prominent families and low for small families.
Net Income:
The net income after deductions must be at or lower than the poverty line.
Assets possessed by family or individual:
Assets possessed by a family or individuals must be below a specifically defined limit. For example, a household without an elderly or disabled member must have an asset below $2250.
The approved family can buy the following items by using SNAP benefits:
Fruits and vegetables;
Meat, poultry, and fish;
Dairy products like milk, curd, cheese, and paneer;
Bread and cereals;
Snack foods and non-alcoholic beverages; and
Seeds and plants, which used to prepare food for the household to eat.
SNAP provides financial assistance for pregnant mothers. So Pregnant women can use SNAP to purchase these household items and save a lot of money for caring for children.
Medicaid is a federally granted financial assistance program to help pregnant women and postpartum care and other medical needs like medical tests, prescription drugs, and hospitalization.
This medical program is helpful for those who have inadequate health insurance or don't have medical insurance. The detailed requirement and eligibility of Medicaid programs vary from start to state.
To be eligible for Medicaid, you must be eligible for specific groups like low-family income, qualified pregnant women and children, persons receiving Supplemental Security Income (SSI), disabled adult children, qualified Medicare beneficiaries, etc.
The applicant must have a low income. Medicaid is the best option for women who are pregnant and need help with money. The state government regulates the advanced eligibility and requirement of Medicaid. So, there are no general eligibility criteria for it. You should contact the nearby Medicaid office for detailed information.
For people age 65 and more, Medicare provides health insurance. This medical insurance program is not for people under 65; however, under some circumstances, if you lie under eligibility, you can take care of yourself.
Especially for a single mother, it might be possible to lie under the eligibility and get pregnant assistance. You can check eligibility in Medicare Eligibility Checker Tool.
Pregnancy Assistance Fund (PAF)
The Pregnancy Assistance Fund program is funded by the Office of Adolescent Health (OAH) to provide money to improve pregnant women's lives during pregnancy and transition into parenthood.
It is a very competitive fund to get because you need to apply for this just like a job. Among thousands of applications, only a few hundred were selected. PAF program provides financial aid to continue their education after pregnancy and assists them in finding employment.
Pregnancy assistance from Charities:
Government programs require some eligibility and requirements that you have to surpass. Many charity groups are paying for pre and post-pregnancy expenses if you are struggling in a critical financial crisis. You can take the support of these charities to release your burden. These are the name of charities that helps women who are pregnant and need help with money.
Every Mother Counts (EMC)
Carry the Future
Good+ Foundation
March of Dimes
Global Midwife Education Foundation
Women in Need (WIN)
Circle of Health International
These Charities will provide you with financial assistance in pregnancy and also after pregnancy. It is the best way to get Financial help for pregnant mothers. Some charities will provide proper knowledge and guidance in the critical time of pregnancy, and others will give your money to solve your financial crisis.
You can also go to Catholic Charities and other religious charity groups to get help with pregnancy. They will not provide you with direct money; however, they will provide your shelter for free, food to eat, and a pleasant environment to spend months of pregnancy. Mostly religious groups will provide help with clothes, medical aids, and food.
Crowdfunding:
Crowdfunding is a new emerging way of fundraising. With the help of social networks and the internet, you can give people a platform to raise funds to help others overcome hardships and live prosperous life.
With crowdfunding, you can help pregnant women financially. From highly expensive surgery to college fees, crowdfunding is helpful in all scenarios.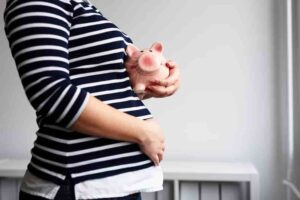 To get funds from the crowd, you need first to introspect and think about why people will help me. It means finding the answer and then posting it on the website or any other means of crowdfunding. When people understand your pulse, they will donate money to you.
You cannot consider crowdfunding as a chief financial aid, as the funding amount can't be estimated. So, when the funds from the government or charities fall short, you can use crowdfunding. It is the right way to get financial help for pregnant mothers.
Online fundraising solves so many problems, and now you have a world in front of you to ask for help. There are many benefits of crowdfunding.
There is no requirement for application or processing.
You don't have to wait for months and months to receive funds.
Some free crowdfunding website allows you to raise funds free of cost.
Crowdfunding makes you stronger by removing the fear of asking for help.
You can reach millions of people in just a few hours using online crowdfunding.
Nowadays, online fundraising has become more popular because of the accessibility of the internet.
There are a few tips that you should understand before starting fundraising.
It would be best if you wrote an appealing fundraising story to connect with people's emotions, and when you resonate with them, people will donate money.
Share your fundraising website and links on Social media to reach o even more audiences. It would help if you asked your friends, colleagues, and relatives to share your fundraiser's website.
If you want to raise more funds for pregnancy and your child's future, you should make a Fundraising team of your family or friends. The more people promote our story, the more potential donor you get.
Prepare for multiple ways of asking for funds and help. You can ask for a small amount and then don't forget to send them a thank you letter.
Financial assistance for pregnant single mothers from Adoption Agencies:
Pregnancy is a boon from God, but not in all cases. Sometimes women get a victim of unwanted pregnancy. In such circumstances, you can choose to place your baby for adoption instead of abortion. Adoption agencies will provide Financial help for pregnant mothers.
While you make an agreement with the adoption agency for placing your child for adoption, the adoption agency will take care of your pregnancy expenses, and they will make sure about the total expanses of 9 months of pregnancy. Getting financial help for pregnant mothers from Adoption agencies is the best way for a single mother.
Many adoption agencies will provide your medical care and health insurance plan. Some have housing and transportation facilities. So, you don't have to pay for rent and transportation. These adoption agencies will be paid you the following expenses until your pregnancy.
Rent and utilities
Groceries
Cell phone and mobile data plan
Transportation
Housing relocation, if necessary
The mother and child's relationship after adopting a child will be decided by the mother or adopting parent. Adoption agencies have some rules and regulations that you have to follow. Adoption agencies will also provide you with some amount of money after the adoption of your child.
Frequently Asked Questions
What benefits can I claim while pregnant in the US?
You can have TANF benefits while you are pregnant. You can use that money to buy food, clothing, housing, utilities, and medical supplies. Families with low income and kids and pregnant women easily qualify for the TANF.
What financial help can I get when pregnant?
You can have Child Benefits, Child Tax Credits, Best Start Grants, Pregnancy & Baby Payments, and Universal Credit.
What benefits can I claim when pregnant and unemployed?
When you are pregnant, unemployed, and do not get Maternity Allowance or Statutory Maternity Pay, then you can have the benefits of Universal credit.
What government agencies can help with pregnancy?
The agency that is safe and securely helps pregnant women are Barangay Health Workers and BEmONC Teams composed of Doctors, Nurses & Midwives.
Conclusion
Even though you have a stable financial condition, the expanse of pregnancy will be hard to bear because the medical expenses are increasing day by you. There are various ways of getting financial help for pregnant mothers. You can always check for the government programs and their eligibility to get support during pregnancy.
Other than government programs, non-profit organizations, and crowdfunding is also excellent way to ask for financial pregnancy assistance. Adoption agencies are also preferred ways to get financial assistance for pregnant single mothers. Hopefully, this article helps to find out ways to get financial help for pregnant mothers. Comment below if you have any doubts or questions.