If you want to become a nurse and a single mother, the good news for you is here. Now you will get nursing scholarships for single mothers and fulfill your dream career.
In the clinical health industry, about 2.5 million nurses are working and make up the largest work team. And the demand for nurses from the clinical health industry is still open, according to the Bureau of Labor Statistics (BLS). With the increasing population of the USA, more nurses are needed. More nurses are moving into primary care settings, and hence the clinical healthcare industry faces a shortage of nurses, especially the skilled ones.
The population is growing as well as aging, and hence the shortage of nurses is a severe problem, according to experts. Even in the recession time, the nursing industry is expecting the opposite. Expectedly, there will be a 27% hike in the growth in employment of registered nurses in the next five to six years.
To meet the demand for nurses, the government and non-government organizations are offering nursing scholarships, and it includes nursing scholarships for single moms in texas. Today, many scholarships are offered and available by the government and other non-governmental organizations. All of them are available at different educational levels like graduate Scholarships, post-doc scholarships, postgraduate scholarships, master's degrees, or doctorate.
This kind of Scholarship helps needy people like single mothers to complete their education and get the desired level in the nursing field. No matter what level single moms want to reach, the scholarship providers offer partial or full scholarships to the applicant. And I am here with the same details today, including known names that provide nursing scholarships for single mothers, the type of Scholarship, and eligibility criteria.
How To Find Nursing Scholarships For Single Mothers?
Finding the right Scholarship for a single mother is tough, especially when there is no website or portal to locate them. Most of the grants don't have a special provision like it is for single mothers only. It is given away to the most eligible people from all the applicants.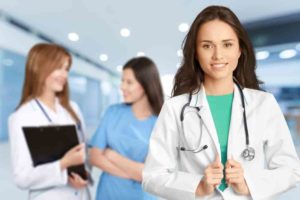 Discovering websites that offer exceptional service to single moms alone is tough. Those sites that offer such services would ask you to fill out the application form to confirm that you are eligible for the nursing scholarships for single mothers that you wish to apply for. After the confirmation, they will give you a full or partial scholarship, as stated in the form. Full Scholarship for nursing for single moms means the provider in nursing education makes all the payments. The applicant needn't worry about any of the expenses related to the course during their entire academic session.
While the partial scholarships would take care of only the tuition fees that are to be paid at the commencement of every term. All the other expenses are to be taken care of by the applicant. No added expenses would be paid off under the scholarships.
Must Read: Get Security Deposit Assistance For Single Mothers
Nursing is in demand, and hence the bodies hike the fees, but not all can afford to pay such high fees. It is due to these government programs and charities that offer grants to single moms that single moms are getting an opportunity to complete their education. Also, there are online learning courses available, that save you time and money.
Best Nursing Scholarships For Single Mothers To Complete Education
Returning to nursing school is a challenging task, especially after a pause. Working, feeding children, and offering financial support are other tasks that one has to manage along with the studies. For a single parent, earning a college degree is difficult. Parenting without a partner is financially challenging, but a degree gives a single mother a good working position to pay the debt.
Single parents in the nursing face all these obstacles; many financing options are there to help the desired candidate. And below is the list of such sources that offer a scholarship for nursing school. Have a look.
Helen E walker Endowed Scholarships:
They have reputed scholarship plans for single mothers studying at St. Luke's College. This Scholarship is available to nursing students who are single parents and are facing a financial crisis. The minimum GPA required to be eligible for these scholarships is 2.5 and there must be a severe need for funds in the family of the applicant.
Texas Tech University offers a scholarship to black single moms around the globe, and it includes nursing courses as well. Texas Tech appreciates and welcomes women into the field of nursing by providing nursing scholarships for single mothers globally. The scholarships are provided based on a merit system. If you qualify and achieve a position in the merit list generated by the university then you would be provided with the handsome grant amount set by the university authorities. To get more information regarding the deadlines and eligibility for the scholarship you can visit their official site.
Army ROTC Nurse Officer Program:
It provides scholarships to undergraduate college nursing students. Not only Scholarships but also offers leadership and job opportunities as well. It pays for either the applicant's tuition fees or provides funds for room and meals for the entire year. It also provides a stipend of $420 a month and $1,200 for books for the entire year. The nursing scholarships for single mothers are awarded based on high academic achievements, excellence in athletics, and demonstrated leadership skills.
This scholarship also gives them a chance of serving the nation its applicants after they complete their education. They can get themselves admitted to the Army or serve the nation in one or another way while remaining in one of the 4 units of defense of the country.
'Back to School Nursing Scholarship:
www.bestnursingdegree.com is awarding two scholarships of $2500. One is for the non-nurse who is going back to school to become a nurse and another is for the one who is going back to school for an RN to BSN curriculum.
Brain Track: Nursing Scholarships for Single Mothers:
The BrainTrack Scholarship for Nursing is open for the student with a minimum of one semester of credits for the nursing degree. All the applicants have to answer the question based on an essay, and from the evolution, the final list is declared. One student is awarded $1000 for the judge's best entry, and another one gets $500 from BrainTrack twice a year. Winners are selected based on thoughtfulness, creativity, focus, accuracy, and practical value.
Chi Eta Phi Sorority Inc.:
It offers annual Scholarships on the regional, national, and local levels and the minority that are worth $50,000. It is for students who want to pursue a nursing degree.
Nursing Home Abuse is a non-profit organization that provides nursing scholarships for single mothers. The main aim of this institute is to encourage and educate women to pursue nursing. Due to the recent rise in the demand for people in this field, it has become essential to educate more and more people about the pros of working in this field.
With this goal, Nursing Home Abuse has introduced nursing scholarships that would provide the required help to the people who aspire to continue in this field but due to financial instability are not being able to go further in the field.
For US students, Nursing Home Abuse offers a $5000 scholarship to all the aspirant candidates who want to pursue their degree in nursing at nursing home abuse. Nursing Home Abuse, in collaboration with Education Aid, gives away these nursing scholarships for single mothers annually. The eligibility for the scholarship is that the applicant must be a U.S. citizen. She must be a student of an accredited post-secondary institution.
National Black Nurses Association (NBNA):
NBNA provides an award under the title of student nurse of the year to an NBNA member to find out the right candidate for a higher or advanced nursing degree. NBNA works to inspire students in the nursing field to achieve excellence through their nursing scholarship for single mothers programs. Although there are some eligibility criteria that one needs to meet to avail of the benefits of the scholarship program.
The applicant is required to write a 2-page essay on how nursing can be revolutionized by them and why they need the scholarship program to support them financially. They are also required to get 2 letters of recommendation. They are also required to submit official transcripts from a reputed and accredited nursing school. If these criteria are met then are chances that the applicant might get selected for the scholarship program.
Danville Community College for Nursing scholarship:
Danville Regional Medical School will award a total of 60 scholarships worth about $500,000 in the next five years. Yes, you have to apply for it, and if you are qualified, you are one of the students who get this grand Scholarship. It covers tuition fees and other costs associated with a nursing degree.
Toby hopper Endowed Scholarship:
Toby hopper Endowed Scholarship is an exclusive one for single moms only. They offer assistance for graduate and undergraduate studies. It also helps the children's education.
Frequently Asked Questions
 How do single moms go to nursing school?
A single mom can go to nursing college by taking the benefit of tax breaks. Other than this, they can go for several scholarships that allow moms to go to nursing school.
Can you go to nursing school and be a mom?
Yes, why not. You can become the best nurse while becoming the world's best mom. You can do it.
How can a single mom afford college?
Mom often qualifies for several programs from the government and finds the best scholarships also. so with the help of their mom go to college.
Do single moms qualify for FAFSA?
Yes, in fact, FAFSA's priority is lone parents especially, single moms. so yes you can go for FAFSA if you're a single mom.
Conclusion
All these are nursing scholarships for single mothers. It is noteworthy that each one has different needs and qualifications. It is advised to study all these nursing scholarships for single mothers carefully and apply for the one that suits your requirements the best. There are 2.6 million jobs in nursing, and 60% are in hospitals. This profession is in demand, and it is the right choice if you opt for it for a stable future. Nursing jobs have excellent working hours and benefits. Consider this option for sure if you are passionate. If you have a real passion for this field then you should surely take the necessary education and make a career out of it. When in need, these nursing scholarships are always there to help you out.